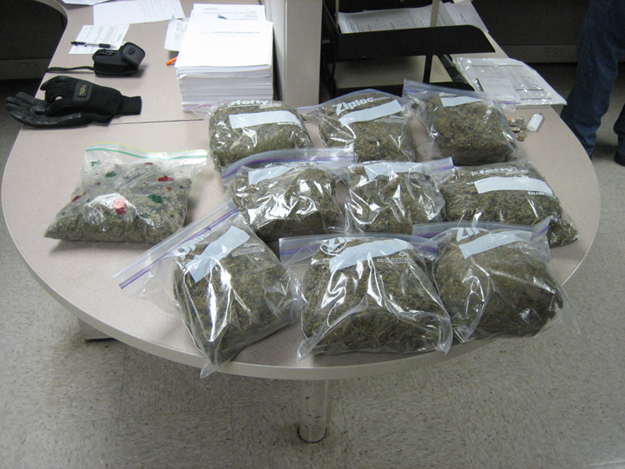 Ya sea a sabiendas o intencionalmente, es sumamente ilegal manufacturar, repartir, u obtener una sustancia controlada.
Una Sustancia controlada es una droga que hace que el sistema nervioso se alenté o se estimule. En otras palabras, una sustancia controlada es una droga o químico el cual la fabricación, dispersión, o posesión es inaceptable por el gobierno.
Si un individuo es culpable de haber cometido una de estas ocurrencias ya mencionadas, ese cierto individuo será apto a cinco o diez años en la cárcel. Todo depende de la cantidad de droga que estuvo implicada en el descubrimiento. Ahora, si el individuo ya ha tenido condenas anteriores, entonces la pena ya no será de cinco o diez años, sino de veinte años en prisión.
Conspiraciones de droga o intentos de conspiraciones también caen en esta categoría. Cualquier individuo que conspire a intentar hacer cualquiera de estas violaciones, será apto a la misma pena que el delito de drogas subyacente.
Los siguientes contienen información sobre ciertos casos de distribuciones y conspiraciones de droga:
Estados Unidos v. Gomez
En este caso particular, no es necesario que el acusado tenga la sabiduría de la cantidad o el tipo de droga que estuvo implicada en el caso. Lo único que el gobierno tiene que probar, es que el acusado está consciente de que estuvo tratando con drogas.
Estados Unidos v. Rutherford
En este caso particular, si la acusación clama que el acusado estuvo implicado en el negocio de la cocaína, pero la prueba en el juicio demuestra que en el negocio se implicó crack en vez de cocaína, entonces esto no es importante. Sin embargo, si el acusado fue acusado de violar el código U.S.C. § 841, entonces el gobierno tiene que probar que cualquier tipo de droga estuvo implicada en el caso.

Estados Unidos v. Toler
En este caso particular pruebas incidentales son suficientes para probar que existe una conspiración. Evidencia directa no es necesaria para probar la conspiración. También, se pueden hacer deducciones a partir de pruebas incidentales y de otros presuntos participantes.

Estados Unidos v. Noe
En este caso particular no tiene que haber pruebas del gobierno que un acto abierto fue hecho por cierta conspiración.

Albernaz v. Estados Unidos
En este caso particular el acusado puede ser culpable de dos diferentes conspiraciones de droga que juntos forman un acuerdo. Por ejemplo, el acusado es encontrado culpable por haber conspirado importar marihuana y distribuir marihuana al mismo tiempo.
Nuestra firma criminal de abogados tiene una extensa experiencia al defender serios casos de droga federales en todo Texas y cortes federales. Contáctenos por favor si necesita un abogado criminal que ha resuelto con éxito casos de este tipo.
3 Comments
Paypal
Contact Us
Toll free 1-888-424-8515
Emergencies 1-866-410-5568
Main Office
113 S. 10th Ave.
Edinburg, TX. 78539
956-381-5766
956-381-5767
Fax: 1-888-613-1498

Harlingen Branch
Jackson St. Suite 212
Harlingen, TX. 78505
956-790-0012
956-720-4656

Brownsville Office
700 Paredes Ave. Suite 112
Brownsville, TX. 78521
956-517-1210

Laredo Office
1701 Jacaman Rd
Laredo, TX. 78041
888-424-8515

San Antonio Office
3618 W. Commerce St. 3000
San Antonio, TX. 78207
1-888-424-8515

Corpus Christi Office
Star Credit Union Building
5262 S. Staples Ste 300
Corpus Christi, TX 78411
1-888-424-8515

Victoria Office
5606 N. Navarro
Victoria, TX. 77904
1-888-424-8515

Reynosa, Mexico Office
Calle Praxedis Balboa 1105
Colonia Del Bosque
Reynosa, Tamaulipas, Mexico
Phones: 011 52 818 421-1724
011 52 899 923-9085
Monterrey, Mexico Office
Boulevard Díaz Ordaz 140
Oficinas en el Parque
Piso 20 Col. Santa María
Monterrey, N.L. 64650 Mexico
011 52 818 421-1724
011 52 818 865-4348
011 52 818 865-4599 Fax
Visit our Virtual Office:
The Virtual Law Firm of Richard Alamia
or one of our partners:
Bob Bennett & Associates
Introducing Clio Connect
Clio Connect enables members of the firm to easily share resources and collaborate with our clients through a secure web-based portal.
This grants our clients access to all documents pertaining to their case.
To access, the firm will need an email address per client.
Please call my office for access to
Clio Connect