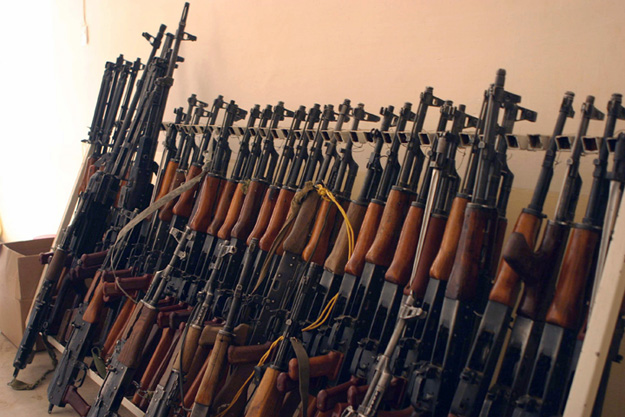 As said in the Texas Penal Code, there are different types of weapons civilians can and cannot own. Owning, carrying, shooting a weapon inappropriately, or making use of certain weapons in the commission of a crime in Texas, are all found to be serious violations.
As already mentioned, there are various types of weapons civilians are and aren't allowed to use. There are also certain circumstances in which the civilian may or may not make us of these weapons. If an individual is found to be violating this law, crucial charges will be thrown upon the individual that trespassed the violations. In addition, the individual will have to overcome serious penalties.
Now, if a certain individual sells or gives a weapon to someone else, or if a child gets to the weapon, not only will the individual face severe penalties, but he/she will also have to face jail for several years.
It is highly common for a police to stop an individual due to traffic violation and notice a weapon inside of the vehicle. Very frequently, civilians get arrested due to the possession of weapons when confronted in front of the police for different reasons than that of weapons.
There are some types of weapons that the government lets the civilian carry but just as objects of antiquity. The following are some of the weapons that fall into this category.
Explosive weapons such as grenades, bombs and rocket
Machine guns
Rifles with barrels less than 16 inches long
Shotguns with barrels less than 18 inches long
Any rifle or shotgun altered so that the entire weapon is less than 26 inches long
Switchblades knives
Brass knuckles
Improvised handguns, also known as "zip guns"
Looking at criminal law, the term weapon does not particularly need to be a gun. It also means to carry arms like knives, clubs, chemical sprays, and several other items that can cause harm. If an individual gets caught carrying one of these weapons, he/she will be charged of a third-degree felony. But if an individual possesses a switchblade or brass knuckle and is busted, a Class A misdemeanor will be charged against he/she.
If an individual has had prior felonious convictions or has committed some kind of assault, it is illegal for this certain individual to carry a weapon within five years of being released from jail. After these five years have passed and worn away, the convict can possess a weapon at his home only.
The Concealed Handgun License in Texas is a license that every civilian carrying a weapon must have. If an individual has this permission or license, it will be illegal for he/she to carry a weapon. After the individual has gotten the Concealed Handgun License, he/she must leave it in the car, at home, or at a place of his/her own control. If the weapon is left in the car, it must be out of view. All kinds of weapons fall into this category. Civilians that carry these weapons must not bring them to places like schools, courts, polling places, etc. Not even, civilians that have contained a license to carry handguns.
There are many defense and many opportunities to aggressively defend a weapons charge in Texas. It is very important that you contact our law firm immediately. We have been representing people arrested for illegal weapons for various years and our law firm has attorneys who were trained to prosecute these types of crimes from across the state. We know what it takes to defend a Texas weapons charge correctly.
11 Comments
Paypal
Contact Us
Toll free 1-888-424-8515
Emergencies 1-866-410-5568
Main Office
113 S. 10th Ave.
Edinburg, TX. 78539
956-381-5766
956-381-5767
Fax: 1-888-613-1498

Harlingen Branch
Jackson St. Suite 212
Harlingen, TX. 78505
956-790-0012
956-720-4656

Brownsville Office
700 Paredes Ave. Suite 112
Brownsville, TX. 78521
956-517-1210

Laredo Office
1701 Jacaman Rd
Laredo, TX. 78041
888-424-8515

San Antonio Office
3618 W. Commerce St. 3000
San Antonio, TX. 78207
1-888-424-8515

Corpus Christi Office
Star Credit Union Building
5262 S. Staples Ste 300
Corpus Christi, TX 78411
1-888-424-8515

Victoria Office
5606 N. Navarro
Victoria, TX. 77904
1-888-424-8515

Reynosa, Mexico Office
Calle Praxedis Balboa 1105
Colonia Del Bosque
Reynosa, Tamaulipas, Mexico
Phones: 011 52 818 421-1724
011 52 899 923-9085
Monterrey, Mexico Office
Boulevard Díaz Ordaz 140
Oficinas en el Parque
Piso 20 Col. Santa María
Monterrey, N.L. 64650 Mexico
011 52 818 421-1724
011 52 818 865-4348
011 52 818 865-4599 Fax
Visit our Virtual Office:
The Virtual Law Firm of Richard Alamia
or one of our partners:
Bob Bennett & Associates
Introducing Clio Connect
Clio Connect enables members of the firm to easily share resources and collaborate with our clients through a secure web-based portal.
This grants our clients access to all documents pertaining to their case.
To access, the firm will need an email address per client.
Please call my office for access to
Clio Connect